Learn Practical Tips for Speaking to Children and Young People in School Settings
In this module, award-winning writer and poet Mohamed Hassan shares his top tips for effective talks, workshops and presentations to children and young people.
This module aimed at writers who are new to school talks or to Writers in Schools but there will be useful tips for all writers, whatever your level of experience.
Tips for Presenting in Schools is part of the Writers in Schools Series is brought to you by Read NZ Te Pou Muramura and the New Zealand Society of Authors Te Puni Kaituhi o Aotearoa PEN Inc.
Read NZ Te Pou Muramura's Writers in Schools programme has been inspiring tamariki to read and write for 50 years. As well as one-off classroom visits driven by school demand, the programme provides a range of options for participation in creative writing workshops, literary tours, public events, book festivals and more.
Module Content
By the end of this module, you will have identified:
What you need to do to prepare for a school talk
Approaches to preparation and presenting
Ways to adapt your presentation for different ages and sizes of groups
Ways to warm up a crowd and keep them engaged.

Learning Level
This module is part of our LaunchPad series and designed for all writers wanting to present to children or young people.
Please note that you will be able to access the module for 90 days from the day you sign up.
Filming and editing by Clinton Phillips.

Mohamed Hassan

Mohamed Hassan is an award-winning poet, journalist, podcaster and producer from Auckland and Cairo. His latest book is How To Be A Bad Muslim and Other Essays, published by Penguin Books New Zealand. Described as funny, elegiac and chilling, in this collection Hassan blends storytelling, memoir and non-fiction to map the experience of being Muslim in the 21st century. Hassan's poems have been shared widely online and are taught in hundreds of schools internationally. He has toured his work across New Zealand, Australia, the US and UK, at TEDx and at the Cheltenham Literature Festival, and he represented NZ at the Individual World Poetry Slam in 2016. As a journalist, Mohamed covered ethnic affairs for RNZ, investigating counterterrorism, workplace discrimination and Islamophobia. In 2017 he was awarded the Gold Trophy at the New York Radio Awards for his podcast series Public Enemy on the impacts of social and security policies on Muslim communities in New Zealand, Australia and the United States.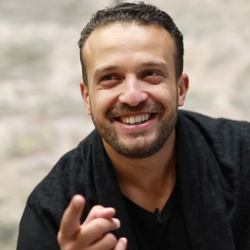 Tips for Presenting in Schools Overview
We anticipate the core module will take up to one hour to complete. You will need internet access and writing materials ready (pen/paper or document open).


Check your inbox to confirm your subscription